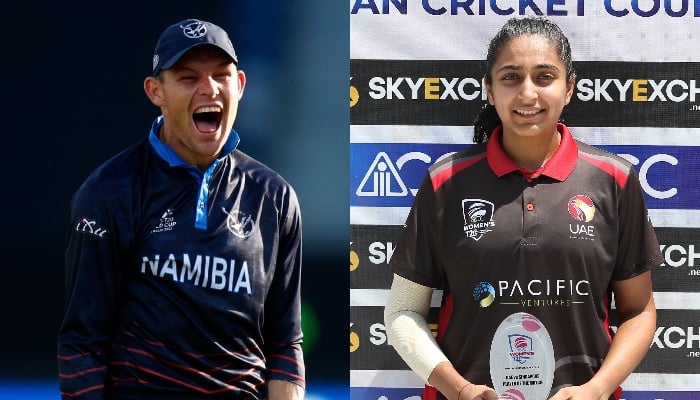 Namibia's Gerhard Erasmus has been named as the ICC Men's Associate Cricketer of 2022 on Wednesday.
Erasmus notched up 956 ODI runs at an average of 56.23 and strike-rate of 78.23. He also claimed 12 wickets at an economy rate of 4.04.
The 27-year-old also scored 306 T20I runs at an average of 38.25 and strike-rate of 122.40. Additionally, he bagged six wickets with an impressive economy rate of 5.55.
"Emulating the success of 2021 was going to be tough for Erasmus and his Namibian teammates, though the national skipper was again excellent in 2022, making his mark in both white-ball formats," the ICC said in a press release.
"The 27-year-old came close to amassing 1000 ODI runs during the calendar year, a feat more impressive considering just eight of his 20 innings were in home conditions," it added.
Meanwhile, the award for ICC Women's Associate Cricketer of 2022 was bagged by United Arab Emirates' Esha Oza.
She scored 675 T20I runs at an average of 35.52 and a strike-rate 134.19, Her exploits included two centuries and as many fifties.
She also clinched 15 T20I wickets at an average of 15.40 and stunning economy rate of 4.84.
"While Esha Oza has enjoyed an admirable start to her international career since debuting in 2018, the batting all-rounder made 2022 her own with a long list of strong performances in T20I cricket," the ICC stated.
"Prior to 2022, Oza had made just 463 T20I runs at 23.15, and a strike rate of 100.43. In 2022, the right-hander took it up a notch, making almost 700 runs across just 23 innings. Incredibly, Oza achieved this while taking on 16 different opponents over the year, across no less than four competitions and a bilateral series against Hong Kong.
"Oza was also standout at the T20 World Cup Qualifier on home soil, making strong contributions in Emirati wins over USA and Zimbabwe, and at one point was the fastest (by innings) to reach 1000 T20I runs, only to be usurped by Tanzania's Fatima Kibasu late last year."
The winners of ICC Awards are identified from the results of the ICC Voting Academy, comprising a wider selection of global cricket journalists and broadcasters, with cricket fans also contributing to the vote via the ICC's digital channels.
The Performance Period for the awards was January 1 – December 31, 2022.