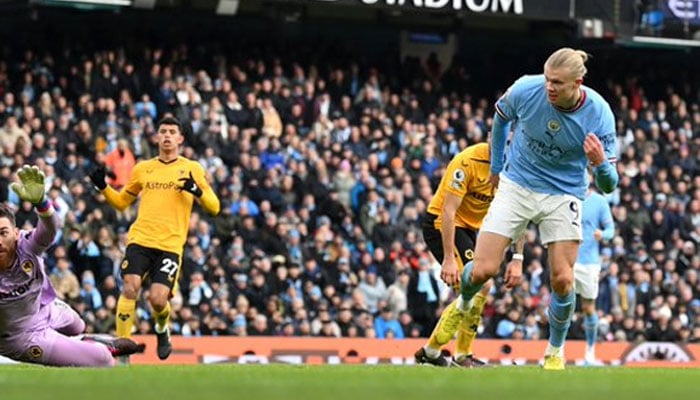 Manchester City striker Erling Haaland surpassed the hat-trick records of former Manchester United forward Ruud van Nistelrooy and three other Premier League greats.
Haaland accomplished the feat after tallying a hat-trick in Sunday night's 3-0 Premier League victory over Wolves for Man City.
With his three goals against Wolves, Haaland broke Van Nistelrooy's record, who had scored his fourth hat-trick in 65 appearances, for the most hat tricks in the Premier League with four in just 19 appearances for Pep Guardiola's team thus far this season.
The Norwegian international also broke the record of three others — Luis Suárez (fourth hat-trick in 81 appearances), Alan Shearer (fourth hat-trick in 86 appearances), and Robbie Fowler (fourth hat-trick in 89 appearances).
The 22-year-old now has 25 Premier League goals in just 19 appearances and 31 in total just halfway through his first season with the English champions.
Head coach Pep Guardiola heaped massive praise on the youngster.
"The numbers are incredible. He lives 24 hours for his profession, job, passion, and love. He's not stressed much when it´s going well or going bad. He is stable," said Guardiola after the match.
Ever since Haaland transferred from Borussia Dortmund to Man City last year, he has been in outstanding form.
In the Premier League so far this season, the Norway international has scored more goals than players like Harry Kane and Ivan Toney combined.