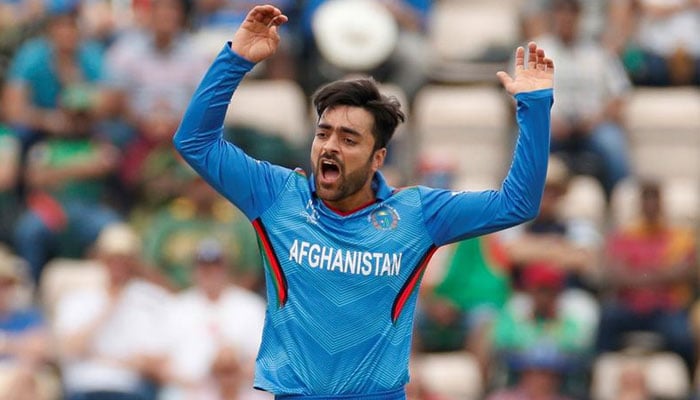 Afghanistan star spinner Rashid Khan has vowed to quit the Big Bash League (BBL) after Australia decided to withdraw from the three-match ODI series between the two sides.
Cricket Australia on Thursday pulled out of the three-match one-day International (ODI) series in March, citing Taliban moves to further restrict women's rights.
Due to restrictions placed by the Taliban-led government, Afghanistan is the only full-member country without a functioning women's team. Girls are officially prohibited from attending universities, gymnasiums, middle and high schools, and parks.
Meanwhile, the leg-spinner suggested keeping cricket out of politics and said he is "considering" his future and indicated pulling out of the ongoing BBL.
"I am really disappointed to hear that Australia have pulled out of the series to play us in March. I take great pride in representing my country and we have made great progress on the world stage. This decision from CA sets us back in that journey. If playing vs Afghanistan is so uncomfortable for Australia team then I wouldn't want to make anyone uncomfortable with my presence in the BBL. Therefore, I will be strongly considering my future in that competition," he wrote.
Earlier, Afghan pacer Naveen-ul-Haq pulled out of the Australia T20 league after CA withdrew from the tournament, terming it a "childish decision".
The Afghanistan Cricket Board (ACB) expressed disappointment and said the board will take the matter to the International Cricket Council (ICC).
"Afghanistan Cricket Board is extremely disappointed and saddened by the pathetic statement of Cricket Australia to withdraw from Afghanistan's home three-match ODI series in March and will officially write to the International Cricket Council about the issue," an ACB statement read.
The board labelled the decision to pull out of the series "an unfortunate attempt to enter the realm of politics and politicise the sport" as it came after "consultation and potential enforcement from the Australian Government".