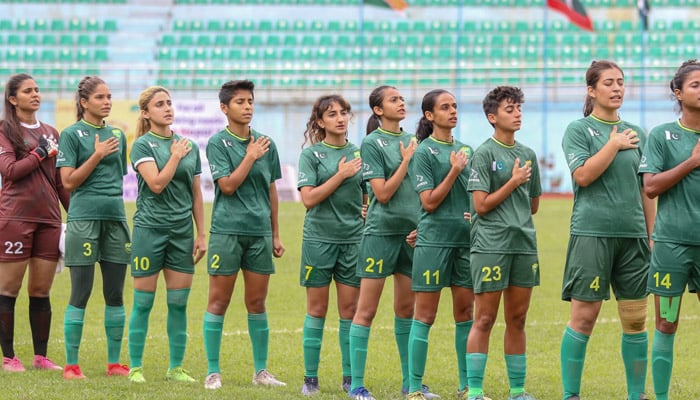 Pakistan women team's flight to Saudi Arabia delayed due to poor visibility in Lahore, the Pakistan Football Federation (PFF) shared. 
The national team was scheduled to depart from Lahore for Saudi Arabia at 3pm today. But due to smog, the flight was delayed. 
According to new schedule, the team will now leave Lahore at 8:50pm today.
Pakistan team is going to Saudi Arabia for participating in four-nation Cup. Apart from Pakistan, hosts Saudi Arabia, Comoros and Mauritius will be in action in the event that begins on January 11 in Damam, Saudi Arabia.
The Pakistan women's team will begin their campaign against Comoros on January 11. Their second match is against Mauritius on January 15, meanwhile their final encounter is against Saudi Arabia on 19 of the same month.

SQUAD
Goalkeepers:
Nisha Ashraf, Rumesa Khan, Hadiqa Zafar, Fatima Naz and Mafia Parveen.
Midfielders:
Maria Khan, Alina Isphani, Alina Akram, Aliza Sabir, Amina Hanif, Ammal Khan, Anushey Usman, Marvi Baig, Rameen Fareed, Ruqqya Farheen, Sanober Sattar, Suha Hirani and Zehmina Malik.
Forwards:
Nadia Khan, Aliya Sadiq, Anmol Hira, Kainat Abdul Ghani, Nadia Shams, Naqiyah Ali and Zoya Zeeshan.
Defenders:
Malika e Noor, Eeshal Fayyaz, Eschal Sheikh, Mishal Bhatti, Nazalia Siddiqui, Sahar Zaman, Sahiba Sherdil, Sara Khan and Sophiya Qureshi.