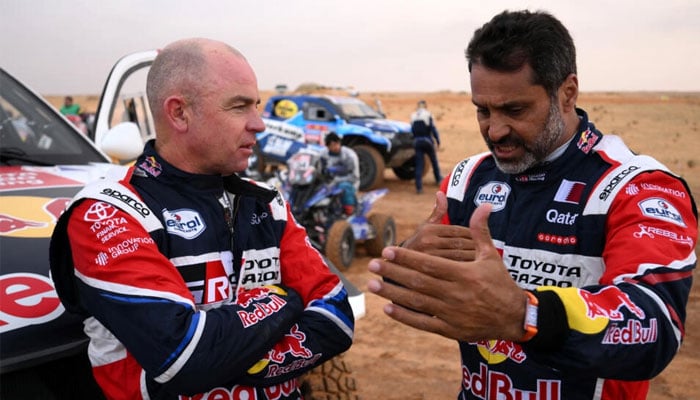 HAIL: French driver Guerlain Chicherit bounced back from five punctures on Monday to win Tuesday's third stage of the Dakar Rally which was shortened from 447 kilometres to 378km due to torrential rain.
The 44-year-old Prodrive driver timed 10 hours 56 minutes with South African Henk Lattegan finishing second, 3min 26sec off the pace. Argentinian Orlando Terranova posted the third fastest time, 5min 4sec adrift.

"It is wonderful," said Chicherit.
"Of course we are disappointed with what happened yesterday but we have proved what we can achieve if we stay focused."
Chicherit's delight was in stark contrast to that of overnight leader and three-time champion Carlos Sainz, who came to a juddering halt 213km with a left wheel problem.
The stoppage cost the 60-year-old Spaniard nearly an hour — the most immediate beneficiary was Qatar's defending champion Nasser Al-Atthiyah.
The 52-year-old tops the overall standings ahead of Saudi driver Yazeed Al-Rajhi, who is second 13min 20sec off the pace, with Dakar legend Frenchman Stephane Peterhansel in third, 20min 45sec adrift.
Peterhansel's compatriot nine-time Rally World Champion Sebastien Loeb had a second successive bad day, last year's runner-up losing another 35 minutes.
The drivers were brought to an early halt shortly after the motorcyclists were as the rain bucketed down.
The motorcycling standings also features a new name as Australian rider Daniel Sanders has moved into the lead.
Sanders's win was ample consolation for the 28-year-old as his time penalty on Sunday for speeding had seen the GasGas rider stripped of the stage victory.
Sanders's ploy of deliberately not topping the stage on Monday so he could avoid being first out on to the course on Tuesday paid off handsomely.
He timed 5min 23sec faster than Argentinian rival Kevin Benavides with American Skyler Howes third, for a second successive stage, 6min 19sec adrift of the winner.
"I thought, ok, if I go for the win, I'll try and push the whole day and win by a lot, and now I'll focus on tomorrow," said Sanders, who was winning his fourth career Dakar stage.
"Of course, the Aussies have the strongest spirit. We've got some good natural desert skills."
Sanders's chances of overall victory were also boosted as one of the main contenders Ricky Brabec, the 2020 champion, was taken to hospital after crashing in the stage.
The 31-year-old American came to grief on his Honda on the 274th kilometre of the stage and was taken to hospital by helicopter for further investigation after complaining of pain in his cervical veterbrae.
Brabec, who also finished second in 2021, had been awarded Sunday's first stage after Sanders and others had been penalised for speeding.
He is the second of the main motorcycling contenders to bow out early in this year's edition: Britain's 2022 champion Sam Sunderland crashed out on Sunday.