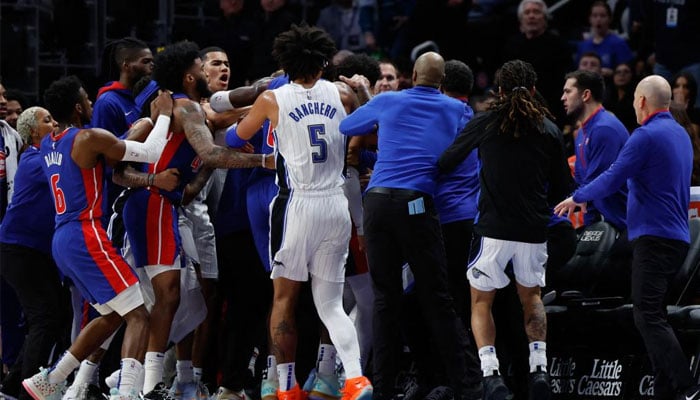 The NBA punished eleven players following a large brawl during the Detroit Pistons' 121-101 victory over the Orlando Magic.
Moritz Wagner, a centre for the Magic, was suspended for two games on Thursday for shoving Pistons guard Killian Hayes off the court.
Meanwhile, for punching Wagner on the back of the head in retaliation, Hayes received a three-match suspension.
Along with eight Magic players, Pistons guard Hamidou Diallo was handed a one-game suspension.
For one game, each of the following players has been suspended: centres Mo Bamba and Wendell Carter Jr, forwards Admiral Schofield and Franz Wagner and guards Cole Anthony, RJ Hampton, Gary Harris, and Kevon Harris.
At the Little Caesars Arena in Detroit, Wagner shoved Hayes while the Pistons had a nine-point advantage.
Wagner was knocked to the ground by Hayes after Diallo sprinted in and shoved him from behind, sending him into the Pistons' bench.
To guarantee that the Magic have eight players available for their upcoming two games, the one-game suspensions imposed on the eight Magic players for leaving the bench area will be spaced out.
Meanwhile, Luka Doncic notched his eighth triple-double of the year with 35 points, 12 rebounds, and 13 assists to aid the Dallas Mavericks in their fifth straight victory over the Houston Rockets by129-114.