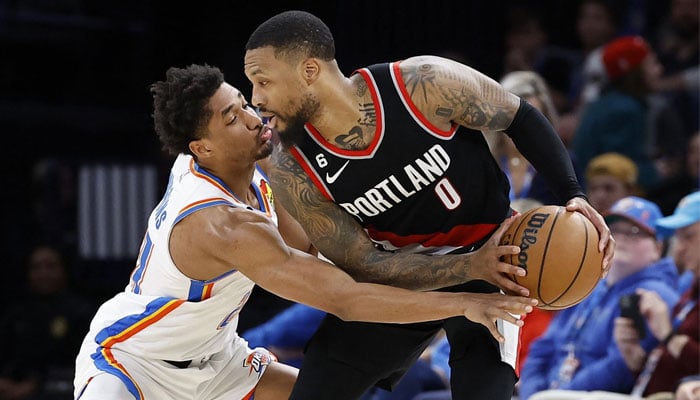 Damian Lillard became the Portland Trail Blazers' all-time leading scorer surpassing Hall of Fame inductee Clyde Drexler during his side's clash with the Oklahoma City Thunder.
Lillard broke Drexler's previous record of 18,040 points. Drexler is regarded as one of the NBA's most influential players of the 1980s and 1990s.
Between 1983 and 1995, Clyde "The Glide" participated in 867 games for the Blazers.
Lillard had a goal of scoring 21 points by the beginning of the game to win it. In the third quarter, the point guard made a deep three-pointer to match the mark, giving his side a 67-72 lead over the Thunder.
He later added a free throw that changed team history with 1:33 left in the third quarter. He was already the top scorer for the team.
"It's a great feeling to come out on top. It's been one of my goals, and the roster has so many good players, a great history of our organization, so to finally be No.1 is a special accomplishment that I'm proud of," Lillard said after the game.
Despite playing in Oklahoma and with the game on the line, the Paycom Center crowd gave Lillard a huge ovation as soon as they were informed over the PA system of Lillard's recent accomplishment.
"I wasn't thinking about the record during the game, I was thinking about winning. I knew being No.1 was a matter of time," he added.
Lillard eventually scored 28 points for the game on 9 of 17 shooting, 6 of 12 three-pointers, three rebounds, and six assists.