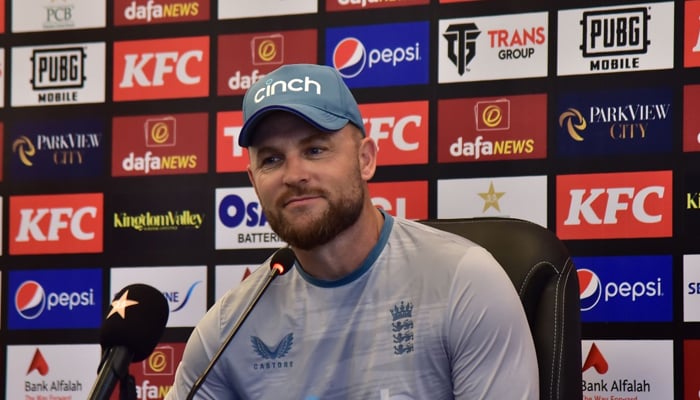 RAWALPINDI: England Test coach Brendon McCullum has hinted that his side's aggressive approach in the longest format of the game might not be prominent during the Pakistan tour.
Speaking ahead of the first Test in Rawalpindi, which begins on December 1, McCullum said that his side will respect conditions in Pakistan.
"We'll respect the conditions but if we are given an opportunity to try and play aggressive and attacking cricket then we'll try and take that option," McCullum said.
"It is authentic to the line-up that we have. That's how they play their cricket and what gives them the most freedom and best opportunity to perform at the highest level.
"We know it might not be as prominent aggressive cricket as we've seen in the past but there will be opportunities to try and play positively and when that does arise I expect our guys to take that on."
The former New Zealand wicketkeeper also highlighted the philosophy behind England's brand of cricket.

"We want to try and entertain people and in the time we've got in leadership positions amongst English cricket," he said.
"Test hasn't always been as popular as it used to be in recent history so we see an obligation that if people turn on the TV anywhere around the world or they pay their money to come and watch you play that they head away somewhat entertained.
"For us it's about trying to play that style. We know it is not always going to be successful. What we have seen over a short period of time is it can unlock your skill."
He also lauded the security arrangements in Pakistan after arriving in the country on Sunday.
"In terms of security it has been good so far, we have only been here for 24 hours. Everyone looks really hospitable and looking after us really well. We have got a beautiful hotel and staff has been amazing," he said.
"We are looking forward to the tour. It is a great opportunity to play cricket in Pakistan," he concluded.