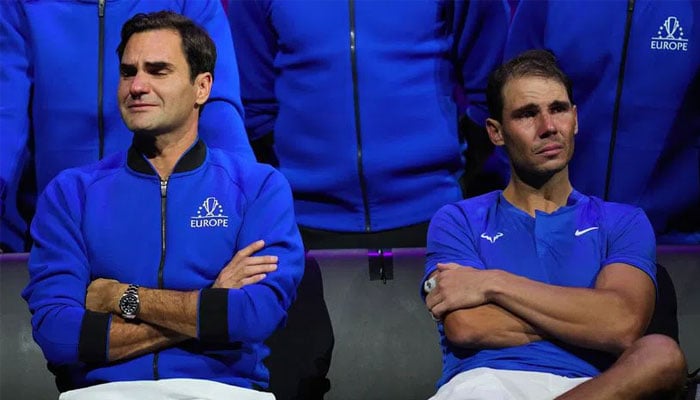 KARACHI: Rafael Nadal has acknowledged that "a part of his life left" when his greatest rival, Roger Federer, bid adieu to tennis after his last-ever competitive clash at the Laver Cup in September.
They teamed up for Federer's final Laver Cup doubles match in London during which the two players shed tears.
Pictures and videos of both players sobbing together during the post-match ceremony went viral on the internet.

"Someone I have admired, who I have rivalled and also I have shared many beautiful things on and off the court was leaving," Nadal told reporters prior to an exhibition match in Argentina.
"In that sense, all those moments, those feelings you have before playing a final of a Grand Slam, of an important tournament, everything that was in the air before those matches. It was different from other matches.
"You know you're not going to live that again and a part of my life left with him (when he retired). It was also the emotion of saying goodbye to someone who has been so important to our sport."
It must be noted here that the two have squared off 40 times over the past 20 years. The Spaniard has a 24-16 advantage in their head-to-head meetings.
Despite winning the first two majors of the season, Nadal's own future in the sport is uncertain due to a series of recent injuries and illnesses.
Meanwhile, talking about his own retirement, Nadal said: "My time will come when it has to come. I'm quite prepared for my next life outside tennis.
"I don't think it's going to be a problem for me beyond what will be an adaptation to the changes. My life has things equally or more important than tennis."