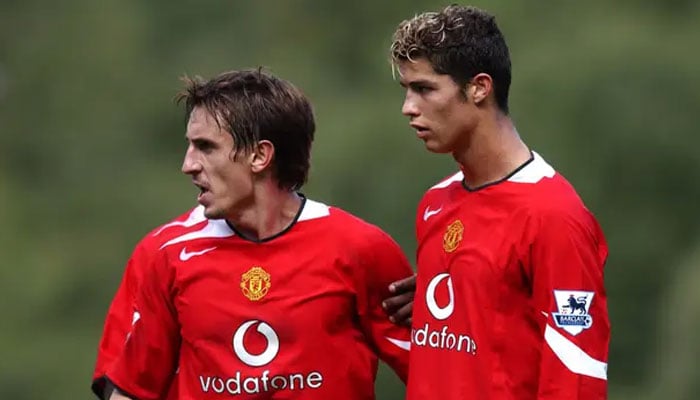 KARACHI: Cristiano Ronaldo's former teammate Gary Neville has stated that the Portuguese star will be seeking to sign with a "top" European club after having his contract at Manchester United terminated as a result of his explosive interview.

In a highly controversial interview with journalist Piers Morgan, Ronaldo took shots at several people, including, Erik ten Hag, the Glazers, Ralf Rangnick, and Gary Neville.
The former defender wished Ronaldo well and said before maybe contemplating the more lucrative offers from the Middle East or America, he should give a "top" European league another go.
"I think Cristiano Ronaldo is going to be looking for a top club on a four-month or five-month contract where he can go in and do a brilliant cameo role at the very elite of European football," Neville told Sky Sports.

"That's what I think his priority would be - to stay in the Champions League, to stay at the very top, and prove that what happened at Manchester United wasn't right."
The footballer-turned-pundit added that the forward has "great" four or five months in him somewhere to help him score 15 or 20 goals in that period.
"Everybody in Manchester will say 'why didn't we keep him?' and people in the Premier League will as well.
"But he's got that in him and I would say that would be his priority. I think he'll get to the end of the season and then think about the next two years and what his last football project might look like. Is it in the US? Is it in the Middle East? Is it somewhere else in Europe where he's not played before?" he maintained.
The legendary player is currently leading his national side in the ongoing FIFA World Cup 2022, with Portugal registering a close win in their tournament opener.
Portugal beat Ghana after a thrilling contest at Stadium 974 on Thursday, with Ronaldo opening the score in the 65th minute via a penalty.
With the score, he became the first player to score at five FIFA World Cups as Portugal defeated Ghana 3-2.
Ronaldo will be fully focused on trying to earn the greatest honour with his nation before considering his options after the tournament in Qatar.