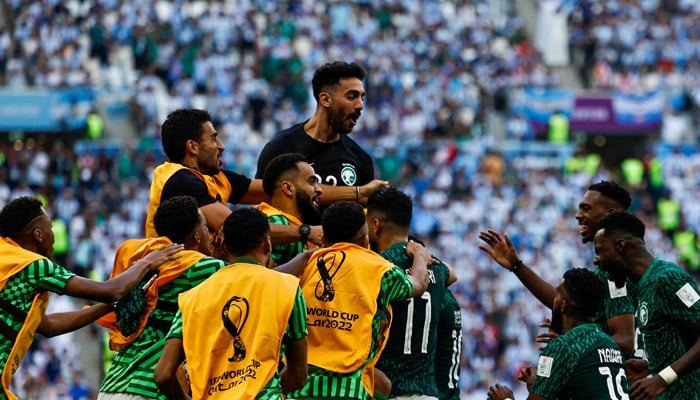 QATAR: Saudi Arabia upset Argentina in group C to start FIFA World Cup 2022 campaign on a winning note. 
Skipper Salman Al-Faraj and his men looked under pressure when Argentina's captain Lionel Messi netted the ball on penalty in just the 10th minute of the game. Messi, while using the crease so well, went past the defending line of Saudi Arabia to score an ensuring goal for the world number three side. 
With 1-0 lead, Argentina looked dominating, having a higher percentage and morale to win the game. 
Unlike expectations, Saudi Arabia's pressure didn't last long and the men in green gave their fans an emotional victory. 
Saudi Arabia's defending line restricted Argentina's strikers so well, meanwhile, Saleh Alshehri and Salem Aldawsari struck surprising goals to take Saudi Arabia on top. 
Alshehri, in 48th minute, made the most of an opportunity to score an equaliser. Just five minutes later, Aldawsari stunned with a goal from inches inside the D.
Aldawsari did a stunt to celebrate his goal and it showed what it meant to them. 

Under pressure, Messi and his team made some useful attempts but didn't manage to score an equaliser. 
Saudi Arabia will now take on Poland on November 26. Argentina will play against Mexico on November 27.