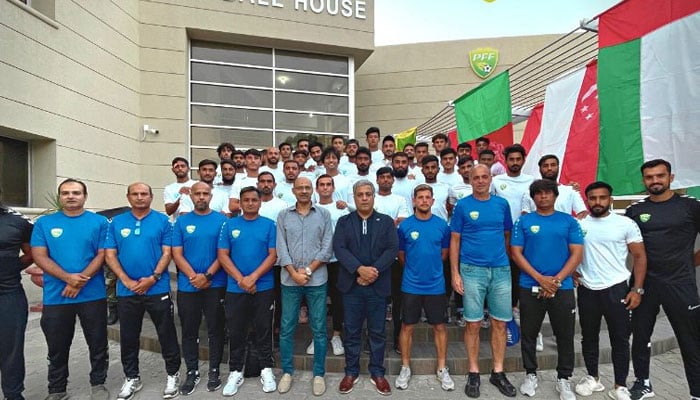 KARACHI: The Pakistan Football Federation (PFF) announced their busy schedule ahead of 2023. 
The federation has announced its packed schedule, providing a new glimmer of hope for the players and fans of the game after a long period of decline for football in Pakistan.
The PFF took to their official Twitter handle to unveil their packed calendar with various age-category events to take place in the future.
"So much football to look forward to. Huge opportunity for all our players. Time to take Pakistan Football to new heights. Onwards and Upwards," the national football regulatory authority wrote.
Football activities have already started as the Pakistan women's football team participated in the SAFF Women's Championship 2022 in Nepal. Shaheens won one out of their three group matches to give a positive start to the new era.
FIFA recently lifted the ban on Pakistan football after Ashfaq Group's takeover, which caused the international football governing body to suspend the PFF.
FIFA lifts ban on Pakistan Football

On June 30, 2022, FIFA had decided to lift ban on the PFF, which was imposed in April 2021 due to undue third-party interference.
FIFA has also extended the mandate of the Normalisation Committee (NC) by 12 months.
According to FIFA, the mandate of the normalisation committee includes the managing of PFF's daily affairs, ensuring the proper registration and scrutiny of the clubs in Pakistan, draft and ratify, with the assistance of FIFA and the AFC, an electoral code for the PFF, organise the elections at district followed by provincial levels and conduct the elections of a new PFF executive committee.