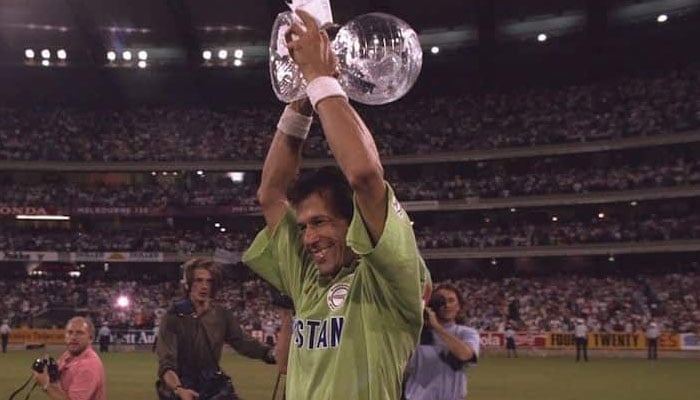 KARACHI: Former Pakistan's World Cup-winning captain Imran Khan has turned 70-year-old today.
Here at Geosuper.tv, we look at the five memorable innings played by the all-rounder on his special day.
Pakistan vs England - 1992 World Cup final
Imran was the craftsman of Pakistan's maiden World Cup victory at the Melbourne Cricket Ground as the Men in Green beat England by 22 runs to clinch their maiden World title.
The all-rounder scored an unbeaten 72 runs in 110 balls and claimed one wicket in 6.2 overs bowled against a tough English team to help Pakistan win the mega event.
Pakistan vs West Indies - Test
In their own backyard in 1988 in the first Test of the three-match series in Georgetown, Imran handed West Indies their first defeat in more than ten years.
He bowled incredibly well to claim 7 wickets and gave away 80 runs in the opening innings. West Indies' low total was answered with a high score from Pakistan. Imran Khan maintained his composure and took four wickets in the second innings while giving away 41 runs.
Pakistan won the match by nine wickets.
Pakistan vs India - ODI
Imran Khan's first and only six-wicket haul in ODIs came in the Rothmans Four Nations Cup match between the Green Shirts and India at Sharjah in 1985.
Imran dismissed six Indian batsmen for just 14 runs in his ten overs after inviting India to bat. These astounding numbers only serve to highlight his effective game-day bowling. Unfortunately, Pakistan lost their path while attempting to reach 126 and only managed to reach 87.
Pakistan vs Australia - Test
At the Sydney Cricket Ground, Imran Khan grabbed 12 wickets—six in each innings—as Pakistan won its first Test match in Australia in 1977.
It was a turning point for Pakistan, who had previously struggled to succeed outside their own country despite possessing players of the highest calibre.
Imran's rise to the ranks of the era's greatest all-rounders alongside Ian Botham of England, Kapil Dev of India, and Richard Hadlee of New Zealand began with this performance.
One of the few times Pakistan had averted loss away from home, it also allowed them to draw the three-Test series 1-1.
Pakistan vs Sri Lanka- Test
One of the top performances by Imran was during the third Test of the three-match series against Sri Lanka at the Gaddafi Stadium Lahore in 1982.
Imran's sensational bowling performance helped the hosts by an innings and 102 runs.
He claimed eight wickets in the first innings, which included the first five batters of the Sri Lankan team, and gave away only 58 runs.
Later in the second innings, Imran secured six scalps and gave away 58 runs to help Pakistan bowl out Sri Lanka for 158 runs.
It is worth mentioning here that Imran represented Pakistan in 88 Test matches and 175 one-day internationals, scored 7,516 runs and secured 544 wickets in the two formats.