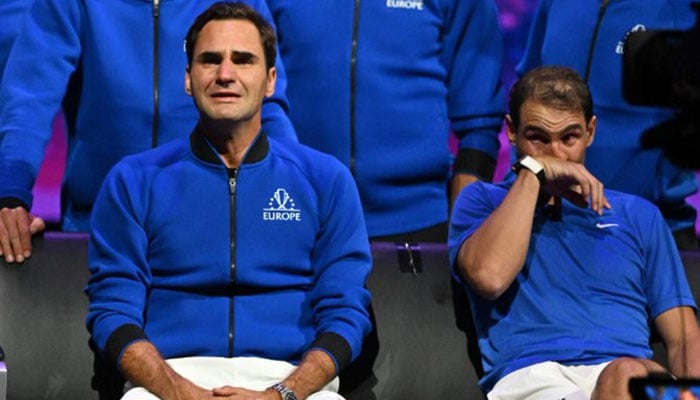 LONDON: After partnering with fellow great Rafael Nadal on an emotional night at the Laver Cup, a grieving Roger Federer bid farewell to the world of competitive tennis.
One of the greatest tennis players in history, the Swiss won 20 Grand Slam singles titles.
"It's been a wonderful day. I'm happy, not sad. It feels great to be here. I'm happy I made it through," Federer said.
At the O2 Arena in London, thousands of fans yelled Federer's name as he sobbed while hugging Nadal and other players.
Nadal also struggled to contain his tears. The 36-year-old Spaniard broke down in tears as he sat next to Federer and the two of them watched British singer Ellie Goulding cap off a wonderful evening with a performance.
In the yearly team competition between Europe and the rest of the globe, Federer, and Nadal, two former adversaries at the pinnacle of the men's game, teamed up to play doubles against Jack Sock and Frances Tiafoe of the United States.
The senior pair challenged Sock and Tiafoe despite Federer's absence from competitive tennis for more than a year, but ultimately fell to them 4-6 7-6 (7-2) 11-9, tying the match at 2-2 after the first day of play.
Nearly winning it were Federer and Nadal, commonly known as "Fedal." At 9-8 in the decider, the players had a match point, but Federer was only able to dive for a forehand that he pushed into the net.
After his 1,750th competitive singles and doubles match, the former world number one's 25-year professional career came to an end in defeat.
"It's been the perfect journey. I'd do it all again," Federer stated during his on-court address while attempting to contain his tears.