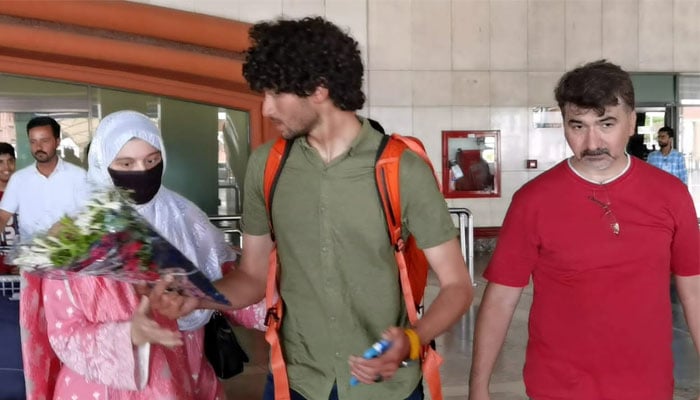 LAHORE: Shehroze Kashif, who set the world record by becoming the youngest mountaineer to climb the world's 10 8-thousanders, said that his family is enough to welcome him, and he has stopped thinking about not getting the government's approval.
After setting the world record, Shehroze was welcomed by his parents, brothers, and friends when he reached Lahore from Skardu. He climbed two 8-thousanders, G-1 and G-2 consecutively, becoming the youngest mountaineer in the world to climb 10 peaks higher than 8000 meters.
There was no government representative present at the airport on his arrival to encourage world record holder Shehroze.
"My family is enough to welcome me because I think that mountaineering is not among the priorities of the government. The authorities talk about tourism, but nothing is done to promote it."
He highlighted that he has broken the record of a British woman, adding "I am feeling very good, now that I have set another record for Pakistan"
"It is my hobby and passion and when I get success in it, I am very happy."
Shehroze further talked about his plans and said: "My goal is to climb all 14 peaks higher than eight thousand meters. I want Pakistan to have the world record for climbing the 14 highest peaks at a young age. I still have four more peaks to climb"
The 20-year-old requested the government to help in summiting the rest of the 8-thousanders in the world, assisting him to achieve the rarest milestone in mountaineering.
He will start the campaign to climb two more 8-thousanders in Nepal next month.
Sohail Imran is a senior reporter for Geo News.