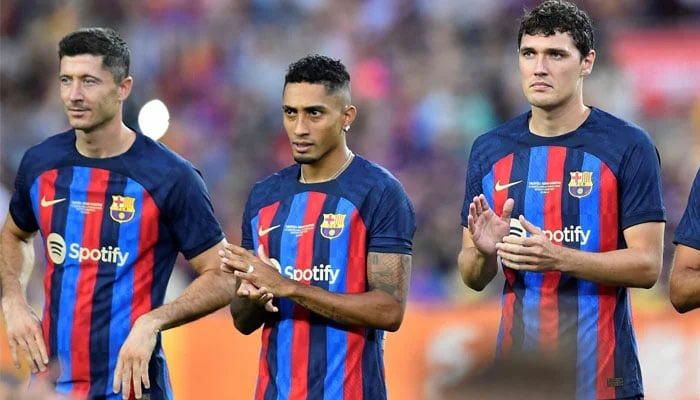 KARACHI: Barcelona have officially signed four new players in time for their season-opening match on Saturday.
La Liga's financial rules prevented the Spanish club from adding new players, but they were able to raise money by pulling a few "economic levers."
After being approved by La Liga, the fourth was activated on Friday, allowing Franck Kessie, Andreas Christensen, Robert Lewandowski, and Raphinha to take on Rayo Vallecano.
Jules Kounde of France is still on hold for the club.
The restriction also applied to Ousmane Dembele and Sergi Roberto, who both had contracts renewed this summer, but both were also registered.
Barcelona needs to make "salary mass" available so that Kounde can register.
Selling shares of the club's media production company Barca Studios, and future television rights have been one of the club's levers.
Coach Xavi claimed Barca were "still working on it" and had until two hours before kickoff for the registrations to be confirmed in his remarks to the media on Friday.
Barca hosts Rayo Vallecano to kick off their upcoming season.
"The club is very positive. We've just announced the fourth lever and we believe that tomorrow will be arranged. Maybe not 100%, but we'll see tomorrow," he added.