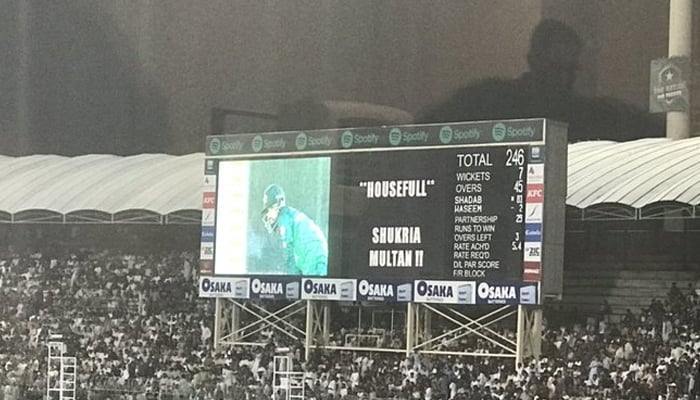 MULTAN: Once again enthusiastic Multani fans proved to be center of attraction as they filled up Multan Cricket Stadium once again in a week time during between Pakistan vs West Indies ODI series.
Just like first and second game, third and final ODI hosted full house despite ongoing extremely hot weather in the city. "Shukriya Multan," read the digital screen after full capacity crowd was recorded here on Sunday.  
Fans started coming to the stadium from 2:30pm despite the weather being recorded at 42 degrees. 
"We are here to show that we [Multan] want more international matches," a fan named Waqar told Geo Super during a Facebook live session. 
"We have proved in PSL by coming in numbers, and we are proving it again. Inshallah, we will prove it future as well that we love cricketer," another fan - Mohammad Ali said. 
It must be noted here that Multan Cricket Stadium has the capacity of almost 28,000 people. During the three-match ODI series, stadium remained packed with fans roaring for their cricket stars.