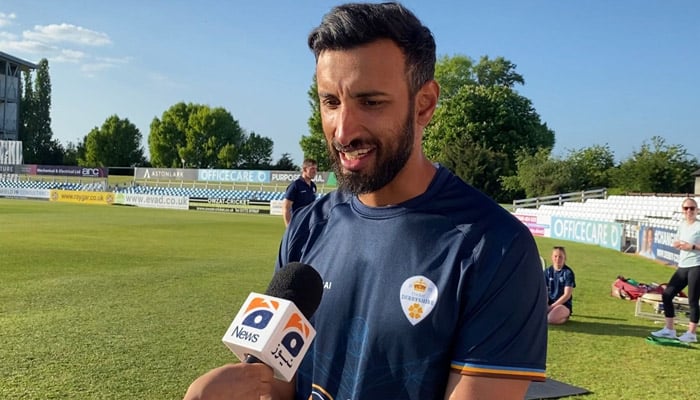 DERBY: Test cricketer and opening batsman of Pakistan cricket team Shan Masood is playing in the English county season for the first time representing Derbyshire County Cricket Club in county championship division two.

In the month of April he scored 713 runs setting a new record in county championship, for that stellar performance he received Professional Cricketers Association's Player of the Month award for April.
The left handed opening batsman has been in sublime form so far scoring 844 runs in 6 matches at the end of the first round of county championship. Overall Shan stands at 2nd spot in the list of players who've scored most runs so far in county championship only Ben Compton of Kent has scored more runs than him but among division two championship clubs Shan is the top scorer. 
So far Shan Masood has scored two double hundreds, 1 century and 3 fifties. His rare failure came in the last game of the first round of championship against Nottinghamshire where he managed to score only 18 in the first innings and was out for a duck in the second:.
Shan debuted for Pakistan in 2013 and so far has represented Pakistan in 25 tests scoring 1378 runs. He's played 5 ODIs as well. Shan last played for Pakistani in January 2021 against New Zealand, but after a dip in his form he's been out of the team since then.
Due to his batting style an impression had developed that he's only suitable in longer form of cricket. But Shan has challenged those impressions with his performances during the last two seasons of Pakistan Super League playing for Multan Sultans which were champions of PSL 6 and the runner up team in PSL7.
Soon Shan will be in action again in the T20 cricket where he will be representing Derbyshire Falcons in the T20 Blast.
Q : Thank you very much for your time Shan, brilliant run for you in April, the month has changed, we are in May now but your performance is still the same, what is the most important factor in your opinion?

Shan Masood: Consistency is the one most important factor at any level in cricket so I try my best to maintain my daily routines. In my opinion runs scored in cricket are not the absolute result but only the hit product of that hard work you do on before. When you apply the input of that hard work on field the results sometimes can be in your favour and some sometimes against you.
Whenever I go to the ground I try to play very ball on it's merit, build my innings in small steps and try to carry on that process regularly.
By the grace of Allah I'm going through such a phase that whatever I want to do it's just turning up exactly like that. I'm trying that this phase goes on for a longer period of time.
Q: what is the reason that you decided to play in county cricket and why for Derbyshire CCC?
Shan Masood: To play and perform in county cricket is what I wished for a long time, everyone knows that the standards of cricket are very high in county cricket. English conditions are always tough for batsman whether it's red ball cricket or white ball specially at a time when English team is ranked at top in white ball cricket. The conditions here very challenging for batsmen specially in red ball cricket. The reason I choose Derbyshire county cricket club is only because Mickey Arthur is here as i had spent three wonderful years with him while he's the coach of Pakistan's nation team. So the wish I had for the last eight years as soon as I had the chance to fulfil that and that too under a coach like Mickey Arthur I didn't hesitate for moment and choose Derbyshire CCC as my new home.
Q: After becoming coach of Derbyshire CCC the first big decision Mickey Arthur took was signing you as an oversees player, he must be feeling extremely proud of his decision since you have proved it correct with your performance?
Shan Masood: I hope he's happy with my performance so far and I will try my best to improve that even more.
Because when someone like Mickey Arthur put his trust on you thinking that you will come and perform well here and the good thing is that I've proved his trust on me was right and he's got the desired results and this is a great honour for any player. There not much difference among players playing at this level, some players do perform better then others but as a whole the performance of players at this level is pretty much the same. The only minor difference is that some have better luck than others and some have better timing. By timing I mean a player is getting regular chances to perform at the right moment. And this was precisely that moment which Mickey Arthur provided me and for that I'm really grateful to him otherwise I would have been resting at my home or might have been practicing in Pakistani in those extremely hot conditions. For me this is a huge opportunity and I will try my best to cash this opportunity at maximum.
Q: In PSL you're playing for Multan Sultans where Andy Flower is head coach and here at Derbyshire it's Mickey Arthur, what is the difference you have felt between their coaching styles, and under which one of them you enjoyed playing the most and who is a better coach in your opinion?
Shan Masood: (with a broad grin across his face) It will be very unfair to make a comparison between both coaches, but he has enjoyed playing with both as both are different types of coaches.
Playing with Andy Flower for Multan Sultan I've developed my game a lot as I've als worked with him as captain. In the last two season of PSL we have played under his coaching and did great as we were champions last year and were runners up this year. He has always kept the standard high and explained in detail how to play white ball cricket.
On the other hand when I first played under Mickey Arthur's coaching in 2016 I was a very raw player and new and my game has its limitations and wasn't solid enough. Mickey always showed me the big picture that what changes I need to bring in my game to play big cricket at international level. We did use to have some harsh conversations too as he told where I faulted in my game.
Q: A perception had developed that your bating style is more suitable for test cricket but not for shorter form of cricket so over the years you have been labelled as a test specialist, but fans have really enjoyed watching you in action for Multan Sultans, why is you opinion about that?
Shan Masood: I've never paid much attention to these labels, every person has a right to have an opinion. What I've always tried to do is remember what are my limitations and to what extent I can cross these limits or even extend or by pass these limits and how much further I can go. So whenever I'm playing any type of cricket whether it's Test, ODI or T20, I always look to reach my limits. I'm neither scared of my failures like many others nor I get disillusioned by any good performance, in fact all I think is that whether I can improve my performance in the next game or not . That's exactly what i tried to achieve in PSL and thanks to Allah it proved extremely good tournament for me. Now the next goal in front of me is county cricket and what further improvements I can make.
Q: You have performed very well in domestic cricket and more recently in PSLand now so far in county season you're performances have been exceptionally well, how can you adjust so quickly in different formats?
Shan Masood: This is the demand in today's professional cricket and also the best thing of any player that he can perform in any format of cricket. In Pakistan team itself we have glittering examples of captain Babar Azam and wicket keeper Mohammad Rizwan who are playing in all three formats at international level and performing exceptionally well which is not easy at all. I think my game is now ready to match that level where I can adjust in various formats easily and play accordingly. And that what's I've been try to do, that I'm which ever format I'm playing keep my game simple and adjust as the situation requires consistently.
Q: Despite of your good batting form and excellent performances you were still unable to impress the selectors for the historic test series against Australia at home, how disappointing was that for you?
Shan Masood: In my opinion we shouldn't be disappointed by and accept these things with an open heart. This was my fate so I'm not disappointed at all what was supposed to happened has happened and now the onus is on me that how can perform better and fulfil the need of my team. So again I will reiterate that we shouldn't worry too much to me on these things in fact we should consider the options available and should strive to bring at such position where your team will need you.
So at whichever spot in the team i will be required I will be available and will keep on trying to improve myself as a player.
Q: Your regular batting slot is opening, but currently it seems very difficult to make a come back as an opener in Pakistan team in any format of cricket, if offered by are you ready to play at any other position?
Shan Masood: This is not an issue for me main thing for me is to play for my Pakistan. So this will be the decision of the team management, selectors and the captain that whenever my services are required I will be ready to play at any position for the team.
Q: If we look at the up coming tours and schedule of Pakistan cricket team it is looking very busy, team will be travelling to play against Sri Lanka, then T20 World Cup in Austria and also the test & T20I series against England and later against New Zealand at home, how hopeful you are for making a comeback in the national squad?
Shan Masood: Indeed it's a great honour to play for Pakistan and every player wants to avail that honour. If that happens then there's nothing better than that but if it doesn't happen then you have to lay somewhere like I'm currently playing for Derbyshire. A lot of big level cricket is coming up in the future and nothing better to represent you country but as I said before if that happens then there's nothing better But if not then will wait for my chance patiently.
Q: Last couple of years were quite tough for you, you're dropped from the team and then there's a personal tragedy last year when your sister passed away despite all these hardships your recent performances have been brilliant , what will you say about that, where did this inspiration come from?
Shan Masood: People all learn a lot from the setbacks we face in our life, things get revealed and in response if they want to correct those setbacks then the outcome is always good. In think I've learnt that in a harder way after that personal tragedy. The death of my sister has taught me a lot about life , the most important thing I learnt is that at the end of the day cricket is just a game , we should enjoy this game but never should let this game control our brains. You always face ups and downs in the form on the field but you should be a good human and more importantly should behave good with fellow humans. My late sister was a special child but unfortunately she passed away she her death tonight me that there are things more important in your life than Cricket like your parents, your health, your friend so we should always try to become be a good human. We should be thankful to Allah that right low I'm here in England and playing cricket it also 9 other players from Pakistan are plying in the county cricket representing their country, a place where cricket was invented and is still taken very seriously. To come here from Pakistan and perform here is very fortunate for me and my fellow players and for that we are all very grateful to Almighty. My personal tragedy has also told me o need to work hard, the final outcome is Allah's will and that is going to be accept it patiently and keep enjoying the cricket.