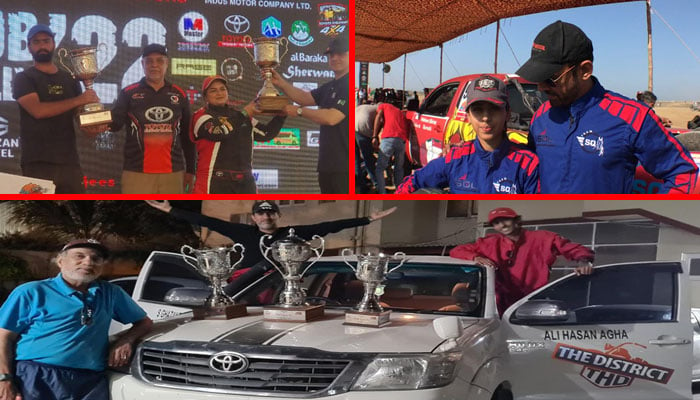 As many as three generations were seen running cars on a tough and tricky 50kms-long track of Hub Rally 2022 after the organizing committee introduced a new 'veteran's category'. 
It was March 27 when the ninth edition of Hub Rally, famously called 'T20 format' of the off-road racing, took place on a sandy-cum-seaside track in Gadani, Balochistan. 
The added pressure of a seaside track makes Hub Rally different from other racing events across the country. However, this time, another differential aspect of the racing was the newly introduced 'veteran's category'.
The idea was pitched by non-other than the chief organizer of Hub Rally, Shujaat Sherwani. "We have decided to include a veteran's category in this year's Hub Rally. This will help the pioneers of this race in the country to return to the track once again," Sherwani, who won the title in veteran's category, had said in the event's press conference. 
The introduction of the veteran's category provided a chance to witness three generations competing in different categories of the rally at the same time. 
Grandfather-Son-Grandson
With the announcement of 'veteran's category', 73-years-old Syed Ashraf Ali Agha - an off-road racing enthusiast - decided to accompany his son and grandson in this year's rally.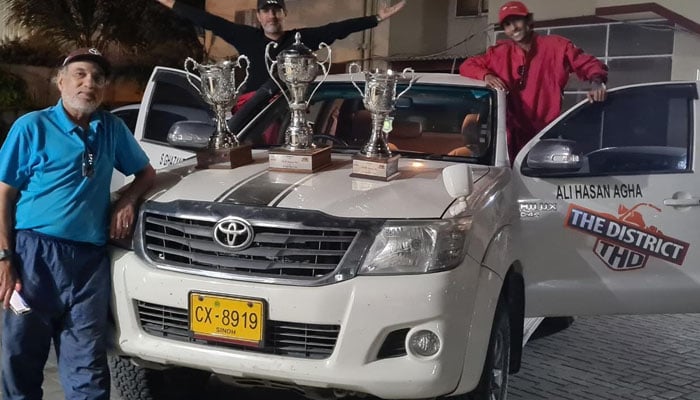 Agha won the fourth position in veteran's category, covering 50kms track in 55 minutes and 28 seconds. 
His son Ghazanfar Ali, 47, claimed second position in Prepared C category whereas grandson Ali Ahsan won third position in Stock C category. 
Father-Son-Daughter
Nida Wasti made rounds on media after she joined very few female racers in the country to contest in off-road rallies. But, now her father, Shahid Wasti aged 63 took all the attention after he accompanied his daughter and son Naveed Wasti in Hub Rally 22.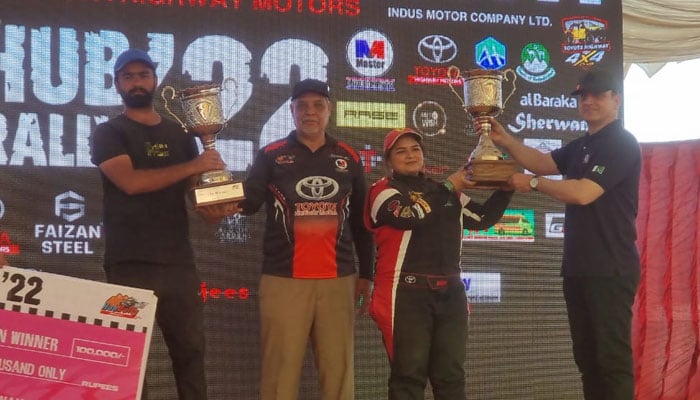 The father-son-daughter trio bagged positions in their respective categories. Nida won the title in women's Stock category, Naveed won title in Prepared B category while Shahid bagged third position in 'veteran's category'.
Fathers-daughters
Two father-daughter duos were seen in action during just concluded Hub Rally 2022. Maham Shiraz and her father Shiraz Qureshi ran their cars in women prepared and men stock categories respectively. Maham secured first position whereas Shiraz failed to complete the race.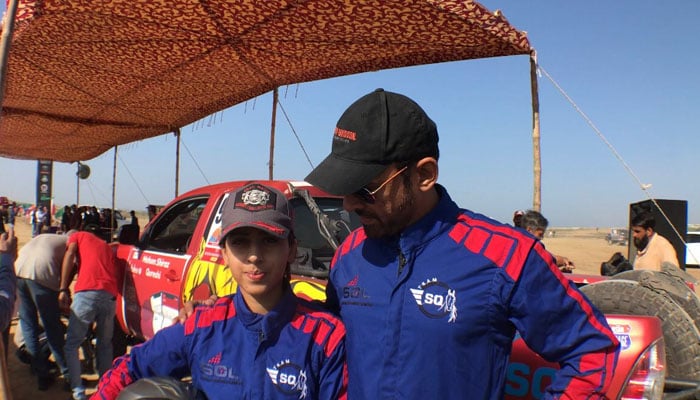 On the other hand, Roney Patel and her daughter Dina also participated in the race but didn't finish the race due to a technical fault that occurred in their car just 4kms before the finish line. 
Brothers
Sahibzada Sultan Muhammad Ali and his younger brother Bahadur Aziz also added variety to the racers' line-up. Sultan took back his title from Nadir Magsi in Prepared A category whereas Aziz managed third position in Prepared B category.