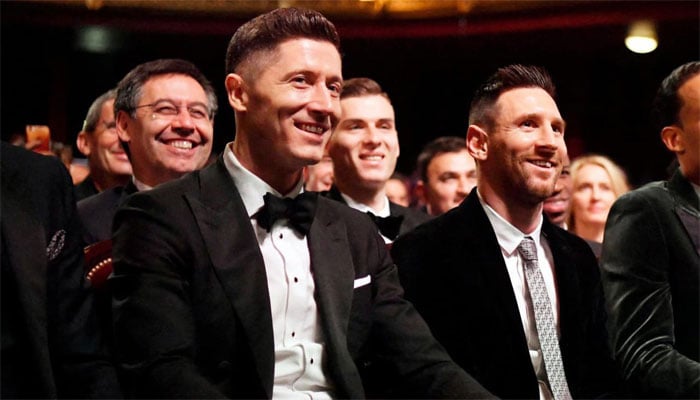 The prestigious Ballon d'Or award organizers say they are "thinking about" awarding Poland and Bayern Munich star Robert Lewandowski the 2020 award after Lionel Messi's comments, who feels Robert was deprived of the 2020 award. 
Due to coronavirus pandemic, last year awards were not handed out, but in before and after lockdown period, Robert Lewandowski's performance was sensational as he helped Bayern win and also bagged several individual awards including Bundesliga Player of the Year.
Messi, while giving speech after collecting the award in Paris mentioned Lewandowski and said: "I would like to mention Robert Lewandowski, it's been a real honour to compete with you. Everyone knows and we agree that you were the winner last year. I think France Football should award you your 2020 Ballon d'Or as you deserve it and you should have it at home."
Messi added: "I think Robert Lewandowski had a great year. Year after year, he improves and shows the excellent striker he is, as well as his ability to score goals. This year he was awarded as the top scorer. Of course he can certainly aspire to that level next year, thanks to his way of being on the pitch. And in addition, he plays for a big club."
Meanwhile, the France Football editor-in-chief Pascal Ferre admits he is open to the possibility, he told Bulinews : "What Messi said was nice and clever. I think we do not have to make very quick decisions. We can think about it and at the same time we should respect the history of the Ballon d'Or, which is based on voting.
"We can't be sure if Lewandowski would have won the Ballon D'Or last year. We can't know because there was no vote. But, to be honest, Lewandowski would have had a great chance of winning last year."