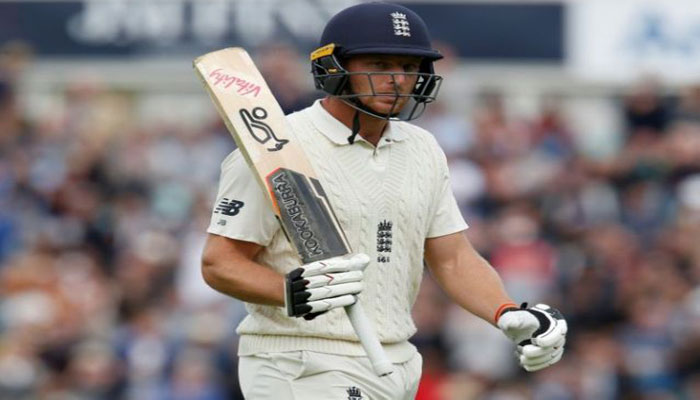 LONDON: Jos Buttler´s third half-century in four innings on Saturday could turn out to be the turning point in the fifth Test against India and further vindicates the gamble to bring him back into the England fold.
Celebrating his 28th birthday in style, he struck 89 runs to take England to a competitive total of 332 all out in their first innings after coming to the crease at the Oval when they were in deep trouble at 171 for five.
Buttler batted carefully against some searching seam bowling on Friday but stepped up the tempo on the second day under cloudy skies, reaching his fifty off 84 balls with five boundaries.
Buttler put on 98 runs with Stuart Broad for the ninth wicket and then opted to open up with James Anderson at the crease, smashing two sixes in three balls off Jasprit Bumrah.
The Lancashire player was eventually out caught at slip by Ajinkya Rahane off left-arm spinner Ravindra Jadeja as he tried to farm the strike.
Former England captain Michael Atherton said Buttler had been the man of the summer for the home side.
"These are unimaginable riches when they were 181 for seven yesterday (Friday)," he told Sky Sports. "England will feel it´s a score that is above-par."
Atherton added: "Buttler, recalled at the start of the summer, has been England´s man of the summer -- he´s played beautifully throughout.
"He really puts the fear into the opposition because of how destructive he can be with the tail."
Ed Smith recalled the talented batsman to Test duty in his first squad announcement as England´s new national selector in May, to face Pakistan.
He was adamant Buttler would prove to be the "right player at the right time" and bring unique qualities to the team.
Buttler, who made his debut in 2014, had last played Test cricket 18 months previously.
His patchy Test career was partly as a result of being viewed as both a wicket-keeper and a batsman but he was also pigeon-holed as a specialist limited-overs player.
Buttler holds the record for England´s fastest-ever one-day hundred -- off 46 balls against Pakistan in 2015.
He has also made a huge splash in Twenty20 cricket, becoming one of the biggest stars in the cash-rich Indian Premier League.
But over the English summer Buttler has emphatically demonstrated he belongs in the longest form of the game.
He has been the top scorer in four out of England´s past five innings and scored his first Test century in the third match of the current series in Nottingham.
In the two-Test series against Pakistan earlier this season, he was top-scorer for England with an average of more than 80.
He now has 349 runs in the current series against the top-ranked Indians -- nearly 100 runs ahead of the next-highest England run-scorer, Sam Curran.
In Buttler, England have the ideal man to anchor the lower middle order. Now their challenge is to find some cons