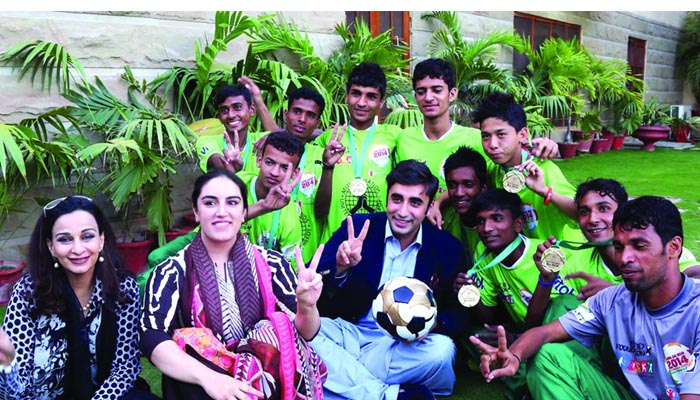 ISLAMABAD: Pakistan Football.Com (FPDC) took a swipe at PPP chairman Bilawal Bhutto Zardari for his failure to keep his promise of financial rewards for the victorious street children.
Pakistan's street football children, who finished third in World Street Football 2017, met former President Asif Ali Zardari and Chairman Pakistan Peoples Party (PPP) Bilawal Bhutto Zardari in April last year.
Bilawal complimented the children for their outstanding performance in Street World Cup Football in the 20-team competition.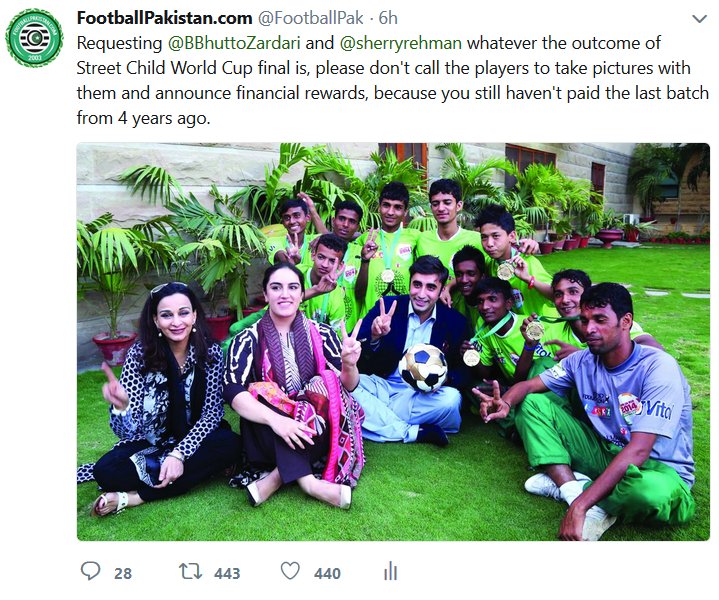 Bakhtawar Bhutto, Asefa Bhutto, MNA Faryal Talpur, former Federal Information Minister and ex-Ambassador to USA Sherry Rehman were also present on the occasion.
The PPP chairman had reportedly announced a cash prize of Rs100, 000 each for the players.
A year later, Pakistan was beaten in the final of Street Child World Cup 2018 played in Russia.
In a Twitter statement before the final on Wednesday, Pakistan Football reminded Bilawal of his promise and said that don't call the players to take picture.
"Requesting @BBhuttoZardari and @sherryrehman whatever the outcome of Street Child World Cup final is, please don't call the players to take pictures with them and announce financial rewards, because you still haven't paid the last batch from 4 years ago," it tweeted.